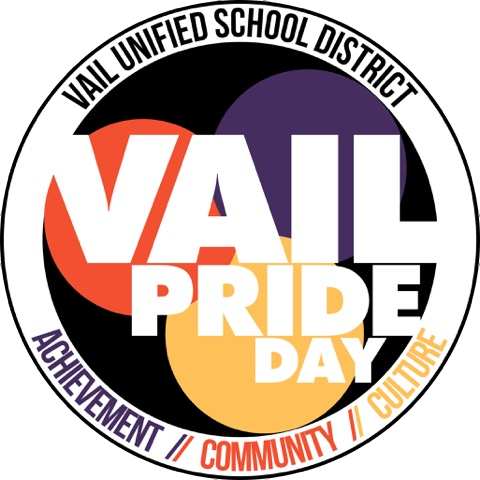 In 1999, former Board and Community members, Anne Gibson and Rosemary McClain co-founded our Annual Vail Pride Day Event! Our District has celebrated student achievement, community, and our culture for over 20 years! In its second decade, VPD is led by Co-Chairs, Linda Kubiak and Heather Stough. There are approximately 40 staff and community volunteers who make up 20 different sub-committees that meet eight months in advance to focus on all aspects and events associated with VPD which takes place every February.
Thursday kicks off the event with the Volunteer Appreciation Luncheon, where parents and community members across the district are recognized for their service . A "Volunteer of the Year" is recognized from each school. On Friday, the Staff Appreciation Luncheon and Awards Ceremony is held to recognize all staff members while highlighting some who were nominated and chosen to receive a "Rookie of the Year," "Support Staff of the Year," or "Teacher of the Year" award through our Staff Awards nomination process. These awards are chosen for each school, as well as some departments including Custodial, Facilities & Maintenance, Community Programs, District Office, and Transportation. The support and cheers that arise from both of these events truly make Vail special!
The energy from those ceremonies carry us into the Vail Pride Day Community Event on Saturday! Vail Pride Day itself brings the whole community together at the Pima County Fairgrounds with a number of events, activities, and displays including: Academic Jeopardy, School Displays, Community Interest Booths, School Music Performances, Math Bowl, STEM Showcase, School Fundraisers, Jumping Castles, Vail Preservation Society, Sponsorship Square, a parade, Special Performances, and our beautiful student Art Displays. VPD's Fun Run takes place in January at Andrada Polytechnic High School during MAV Fest weekend.
VPD is a culmination of celebrating our students, our community, and our culture! We hope you can join us this year to be a part of our history and make this an annual tradition with your family for many years to come!