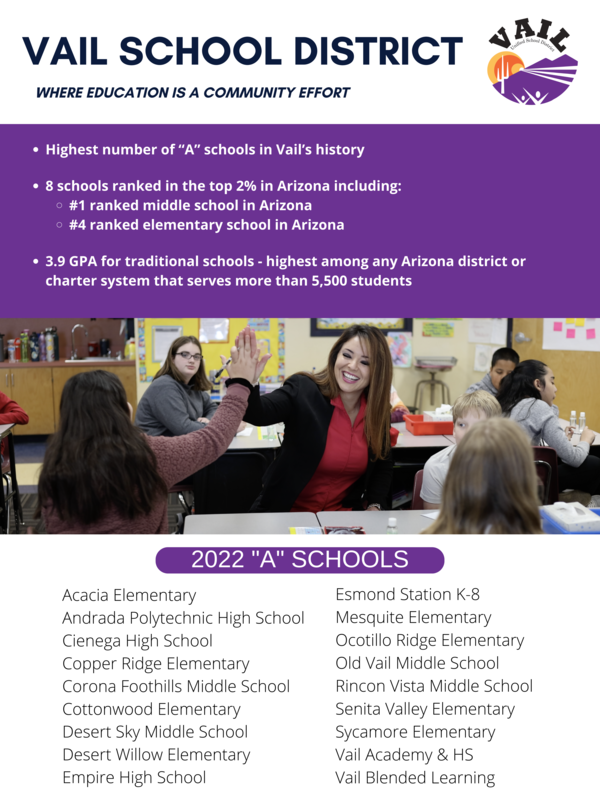 To our parents, students, staff, and community - you all own a piece of the incredible success listed above. Thank you for helping ensure that children in our schools receive a high quality education and that Vail remains one of the highest performing school districts in the state.
Over the past three years, we have shared a collective concern over how our children would fare academically as a result of the disruptions from the pandemic.
That picture began to clear this week as the State Board of Education updated school labels for the first time in three years.
The A-F Letter Grade Accountability System, adopted by the State Board of Education, uses a range of metrics to measure student learning and focuses on proficiency, student growth, and students' readiness for the next grade level. To receive an "A" rating, schools must demonstrate overall performance that is significantly higher than the state's average.
Our 2022 school labels reflect clear evidence that through our collective efforts our students continue to learn and grow at very high levels.
18 of Vail's 20 traditional schools earned an "A" label. Further, Vail had more schools (eight) rank in the top two percent of all schools across the state than any other district or charter school system in Arizona.
These results are built upon the foundation of strong relationships with our families, our students, and our staff. It is also an incredible testament to Vail's instructional system and the hard work of our students and dedication of our staff.
Moving forward, we remain committed to working with our families, our staff, and our community to ensure that students in our schools have the best environment possible to continue to learn and grow at the highest levels.
Thank you for your continued support and partnership. Vail is a place "where education is a community effort".
John Carruth
Superintendent