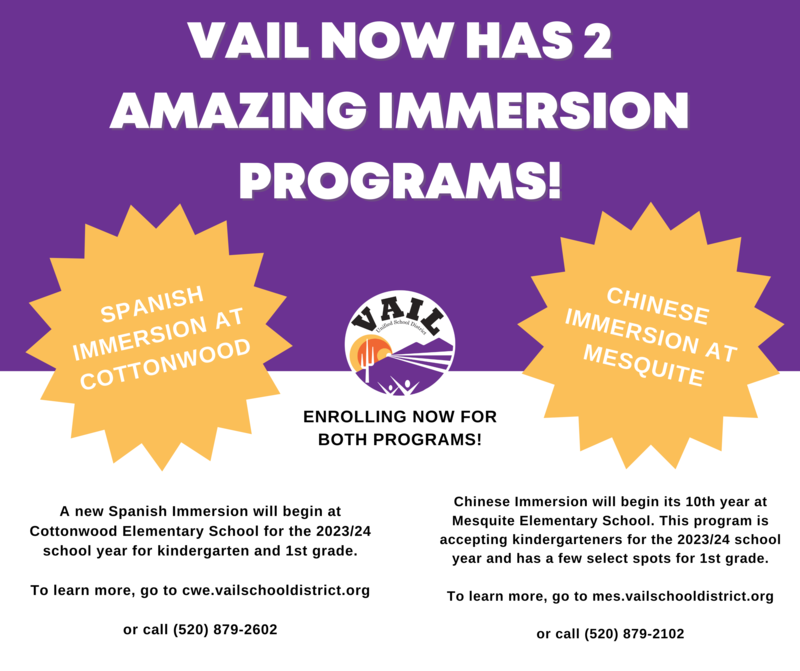 Vail is announcing a new Spanish language immersion program at Cottonwood Elementary School for the 2023/2024 school year.
Since 2014, Mesquite Elementary School has operated a very successful and highly sought after Chinese Immersion program. The first students in this program are now in high school and besides being fluent in Mandarin Chinese, they are eligible to earn college language credit and boast an average GPA that is higher than their peers.
Based on the success of this program, Vail has decided to expand language immersion opportunities to students and their families by offering Spanish Immersion at Cottonwood Elementary School starting next year with kindergarten and first grade. Just like the Chinese Immersion program, the intent will be to grow this program year-by-year as students progress into high school.
If you would like to learn more about Cottonwood's new Spanish Immersion program, please visit: https://www.vailschooldistrict.org/o/cwe/article/959624
If you would like to learn more about Mesquite's Chinese Immersion program, please visit: https://mes.vailschooldistrict.org/o/mes/page/chinese-immersion-program